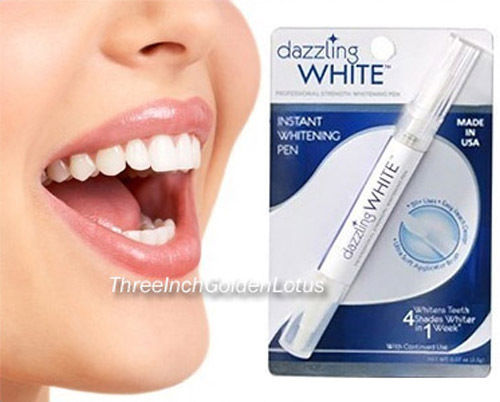 Dazzling White
Instant Whitening Pen
Professional strength whitening paint-on gel
Active oxygen bubbles instantly begin to remove stains
PH neutral and easy to apply
Whitens up to 4 shades in 1 week with continued use, results may vary (from product Manufacturer).
Gel dries quickly, it won't rub off or cause irritation.
Ultra Soft Applicator Brush.
Convenient for Travel.
Made in the USA produced under the highest quality standards.
Fast result and easy to use
Clinically proven safe and effective
Affordable
Toothy troopers light up the night with a speedy, easy-to-use teeth whitening pen. The Dazzling WHITE Instant Whitening Pen contains dental-grade whitening gel to lighten teeth by up to four shades in one week with continued use (results may vary). Simply twist the pen to dispense gel and brush it onto teeth, using the simple applicator tip. As the active ingredient in the gel, hydrogen peroxide, is broken down, oxygen removes stained organic deposits via oxidisation. This process makes the overall tooth color closer to the bright white of baby teeth, whipped cream or Discovery channel-worthy igloos.
Tooth structure remains unchanged and years of clinical tests have proven that the Dazzling WHITE system is completely safe and gentle for gums and all their molaricious inhabitants, as well as veneers, caps and crowns. The teeth whitening gel takes seconds to apply and can be used twice daily until the desired level of whiteness is met. There is enough gel in the pen for thirty applications, which should give Grouponites plenty of time to wave the white flag of peace at smoking, coffee and red wine stains.