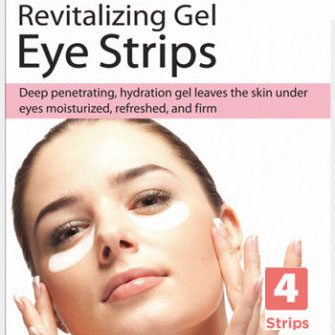 Revitalizing Gel Eye Strips
4 Revitalizing ANTI-WRINKLE Under Eye Gel Patches

Brand New, Fresh and Factory Sealed
2 Patches/Strips in each Sealed Packet
Total 24 Patches/Strips or 12 Packets
Designed for professional salon, spa, beauty store and personal use.
To save your cost, this will be shipped as Bulk Pack without box
Deep penetrating, hydration gel leaves the skin under eyes moisturized, refreshed and firm.
Our Revitalizing Gel Strips work with your skin to increase elasticity and help fade away fine lines and wrinkles around eyes.
They work quickly and gently to visibly improve the eye area in as little four weeks.
This product has also been very popular for use in eyelash extensions and in salons around the country.
Directions:
Thoroughly clean and dry your face.
Peel patch from plastic liner.
Apply the patch to appropriate area with the shiny side facing your skin.
To remove the patches, peel off slowly from the edges. Rinse off any residue with water.
30-Minute Instructions:
Wear the patches for 30 minutes. Apply patches 5 times for the first week, then at least 3 times per week thereafter.